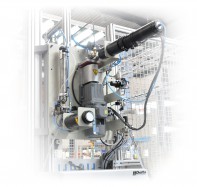 Automated application of pasty 1-component products
The DAT 300 is designed to dose and apply low to high viscous 1-component products and adhesives such as PUR's, hybrids, silicones, PVC. It is designed to dose small shots very accurately, but can be used for continuous extrusion as well.
This installation can be cold or heated and is often used in combination with a robot or XYZ-table.
As a lot of productions start with small volumes (prototypes), it is possible to start with product supply out of cartridges. Once the volumes are big enough, the product can be supplied out of pails.