DEM05x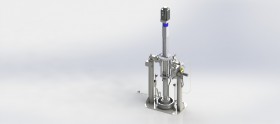 Application of 1 or 2-component products with abrasive fillers
This DEM05X range is rather a concept than an installation. It contains 1 or 2 servomotors, controlling the dosing of a product which contains fillers too big (for instance 3M glass bubbles) or too abrasive to process with a gear pump. Both 1-component and 2-component products can be processed with this kind of machines. For the 2-component a complete range of ratio's can be covered, going from 1:1 to 200:1, with different viscosities.
Every installation is completely adapted to the product that needs dosing.
This kind of system can be used for both manual and automated applications.

RESOURCES
If you need further information or if you have any questions, suggestions or comments, please contact us on:
Contact details