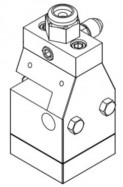 1-component low flow application gun
This gun is suited for spraying or extrusion of 1-component products. Different types of adapters and extrusion/spraying nozzles are available to meet the needs of your application.
The gun has a product passage of 3 mm and can withstand a maximum operation pressure of 400 bar. The parts of the gun which are in contact with the product are stainless steel, the needles are DLC coated and the product seals are PTFE.
A fast response time is obtained with the double acting pneumatic control of the needles. A heating blok can be attached to the gun if needed.