DMC202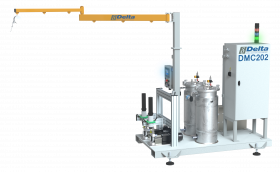 Application of low to medium viscous 2-component products
We engineered the DMC202 system for the
dosing, mixing and application
of low to medium
viscous 2-component fluids
, such as
epoxies, polyurethanes, silicones
, etc.
The entire machine is controlled via a control unit with PLC and touchscreen, provided with our modular Siemens software. With this software, the machine can control products up to 5 components for metering.
The DMC202 is a modular system, which can be adjusted according to your needs, product & application! Many layouts are possible, both for manual and automatic applications.
We designed a special version of the DMC202 dosing machine for potting applications. This installation is equipped with a table and foot pedal, so it is easy to accurately & repeatedly fill the often small electrical components.
If you want more information, please contact us to receive our flyer.

ADVANTAGES
You ensure your customers get high quality products because of a very precise dosing.
You get products with a homogeneous finishing.
You win operating time thanks to the easy control.
Your operators gain time and self-support thanks to the easy adjustment with the touchscreen.
You reduce the time and cost of downtime thanks to the easy maintenance of the installation.
You avoid the risk of chemical incompatibility by using stainless steel pressure vessels.
APPLICATIONS
Dosing of silicone for the production of silicone skin patches.
Dosing of a polyurethane into open moulds for door cornices.
Application of a polyurethane to attach a membrane onto a plastic frame for water filters.
Potting of electrical components for a higher resistance against environmental conditions.
Potting of paint brushes.
Low pressure injection of silicones into moulds.
RESOURCES
If you need further information or if you have any questions, suggestions or comments, please contact us on:
Contact details