DMC202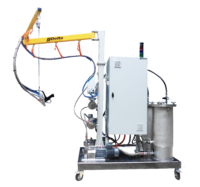 Application of low to medium viscous 2-component products
The DMC202 system is engineered for the metering and mixing of low to medium viscous 2-component products as epoxies, polyurethanes, silicones, etc. Our self developed software is able to process products up to 6 components.
The installation can be used for manual or automatic applications and has different options. It's a modular system composed according to the characteristics of the product and your needs.
A special version of the DMC202 was designed for potting applications. This installation is equipped with a table and foot pedal, in this way it is easy to fill the often small electrical components in a repeatedly accurate way.
More information on the DMC202 can be found in the technical pdf-folder below or contact us to receive our flyer.

RESOURCES
If you need further information or if you have any questions, suggestions or comments, please contact us on:
Contact details