DMC022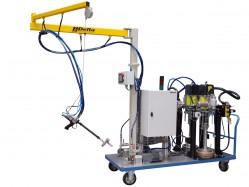 Application of pasty or high viscous 2-component products
The DMC022 installation is engineered for metering and mixing pasty or high viscous 2-component products. The machine is suited for the dosing, extrusion and application of your products at low pressure. Also very thixotropic products can be processed with the DMC022.
The possibilities are the same as for the DMC202 installation, the only difference between the two installations is the product supply. Here, the necessary pressure to feed the different components into the pumps is delivered via ram units. Both 20 L and 200 L pails can be processed.
For more technical information, check the pdf-folder.

RESOURCES
If you need further information or if you have any questions, suggestions or comments, please contact us on:
Contact details