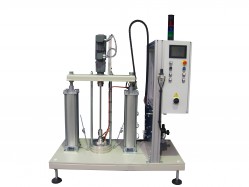 Manual or automated application of 1-component low/hot melt glues
To be able to deliver our clients all possible solutions, the DBM range was developed to process the regular hotmelts and innovative reactive (low)hotmelts.
The bulkmelters are equipped with pneumatic or hydraulic elevator, heated following plate, gear pump, heated hose and heated gun. The installation will always be adjusted to the clients needs.
Depending on the clients process, the gun can be mounted on a robot, above a roll, etc.