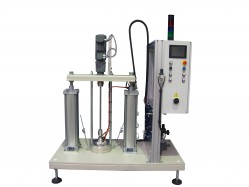 Manual or automated application of 1-component low/hot melt glues
The DBM range was developed to process the regular hot melts and innovative reactive low/hot melt glues with the necessary safety precautions.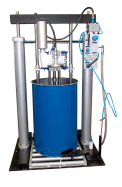 Application of a pasty 1-component product
Simple pneumatic system to apply a high viscous product fed out of 20 l pails or 200 l drums. Consisting of a double pneumatic elevator, a double working piston/shovel pump and a follower plate with double sealing. Depending on the application and required precision, components can be added such as an accumulator, product pressure regulator, …
Heated cartridge gun
This gun has been developed for the daily users of standard aluminum cartridges. When the consumption of adhesive is not big enough to change to 20 L pails, this gun is the perfect intermediate solution.
The operator does not have to put that much manual power anymore to push out the adhesive, as the gun is pneumatically driven and equipped with an ergonomic handle. Furthermore, thanks to the increased pressure ratio, the gun can be used for high viscous fluids as well.
As the temperature gun can be regulated from 20°C to 90°C, the gun can be used for both cold and heated applications.