DAG003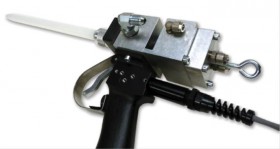 2-component gun
The DAG 003 is a 2-component application gun for fluid and pasty products. It is suitable for extrusion, spraying and the application of 2-component products.
The DAG003 is modularly designed and has different options to meet the needs of every application. The gun is generally used with disposable static mixers, this means that in most cases no cleaning of the gun is required after production.
It is a safe and robust engineered application gun that can withstand a maximum operation pressure of 300 bar.
For more technical details, please see the pdf-folder below.

RESOURCES
If you need further information or if you have any questions, suggestions or comments, please contact us on:
Contact details