DALxx-xx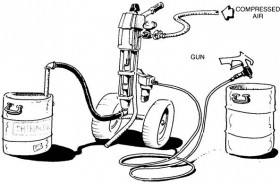 Airless spray installations
The DAL35-70 and DAL50-210 with pressure ratio 35/1, respectively 50/1 and volume/cycle 70 ml, respectively 210 ml are developed as standard airless spray installations able to cover a wide range of our clients applications. These installations can be used to spray higher flows of paints, varnishes and other low viscous fluids.
An installation consists of a pump, filter, high pressure hose and spray gun. The pumps are full inox and can be mounted on a carriage, to the wall or on fixed tripod.
Other pumps are available on demand. For more details, contact our sales team.

RESOURCES
If you need further information or if you have any questions, suggestions or comments, please contact us on:
Contact details