DASxxx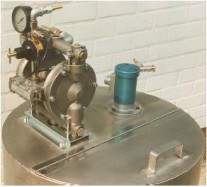 Airspray installations
The DASXXX is a spray application system to apply paints, adhesives and other low viscous fluids by means of air atomization.
They can be used manually to fully automated, depending on your needs and production process. Starting from guns with top or bottom cups, to a manual system consisting of a membrane pump or pressure vessel and spray gun. Or a fully automated spraying process.
Contact our sales team for more information.

RESOURCES
If you need further information or if you have any questions, suggestions or comments, please contact us on:
Contact details