Multi component system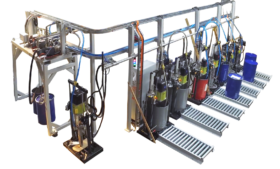 Multi component system
In some production processes a multi component system is needed to precisely dose and mix the products.
At Delta Application Technics we have developed several dosing machines for the application of up to 7 components. These dosing machines are often used if different colors need to be mixed in resins or for technical textiles. All the components are fluid or pasty products.
If you have a multi component product that you would like to meter and mix by a machine, do not hesitate to contact us for some more information.

RESOURCES
If you need further information or if you have any questions, suggestions or comments, please contact us on:
Contact details